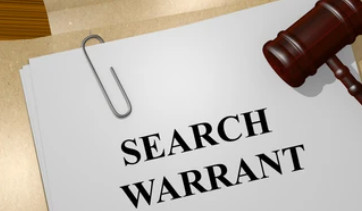 Search Warrants and Probable Cause
CAC00079
Rules
The standard for a magistrate to issue a search warrant is finding that the warrant affidavit shows a "fair probability" that police will find contraband or evidence of a crime at a particular place.  The reviewing court's duty, on the other hand, is simply to ensure the magistrate had a "substantial basis" for that conclusion.  Information in a warrant affidavit is not stale if tied by reoccurring events to the current search.  If so tied to the current search, the fact that a suspect's prior convictions are not dated in the affidavit is irrelevant.
Facts
The following was included in a search warrant affidavit asking for permission to search defendant Robert Andrew Delgado's house:  Defendant is a documented member of the Highland Park Criminal Street Gang in Los Angeles, where he is known by his gang moniker of "Loco." His residence, located at 510 Toledo Street, is used as a gang "hangout," where gang members can be found on a regular basis.  Defendant's criminal history includes four prior felony convictions; i.e., gang member with a gun, assault with a deadly weapon, carjacking, and possession of a controlled substance for sale (no dates are given).  In addition to extracting "taxes" from businesses, the Highland Park gang is known to have engaged in assaults, robberies, and murders; all used as a means of intimidation so that it can freely sell illegal guns and drugs without fear that others might report them to the police. 
On July 5, 2019, police officers were surveilling defendant's residence.  This surveillance was prompted by the fact that crime attributed to the Highland Park gang had recently increased and the officers knew that many of the gang members would be hanging out there.  At about 7:15 p.m., the officers observed a black Lexus SUV stop in front of defendant's residence.  Two of the vehicle's occupants, recognized as Rodrigo Medina and Ruben Ruiz, went into the residence while the driver remained in the car.  The officers knew Ruiz to be a documented member of the Highland Park gang who was on active parole for armed robbery, and as such, was subject to search and seizure conditions.  Approximately three to five minutes after entering the residence, Medina and Ruiz were observed leaving the house and returning to the SUV.  Within a couple more minutes, defendant came out of his house and approached the SUV's front passenger window. Defendant "leaned in close" through the window for a few seconds, and then returned to his residence.  The officers believed, based upon their training and experience, that defendant had possibly delivered narcotics and/or firearms to the occupants of the vehicle.  As the SUV drove away, officers stopped it.  Contacting the vehicle's occupants, the driver was determined to be a gang associate while Medina and Ruiz were its passengers.  A search of the car resulted in the recovery of about $700 in cash, two illegal guns, and a half-pound of assorted drugs.  All the drugs, other than 1.49 grams of methamphetamine, were found on Medina.  The occupants of the vehicle were all arrested.  As a result of the above observations, Officer Larry Burcher sought and obtained a search warrant for the Toledo Street address.  In addition to all the facts and circumstances as described above, Officer Burcher included in his warrant application some personal information; i.e., that he had been a police officer for 28 years during which time he had conducted hundreds of investigations, and that he had been a supervising detective in charge of a gang impact team for six years.  Based upon all of the above, it was Officer Bucher's opinion, as stated in the warrant affidavit, that defendant was supplying drugs and guns to his fellow Highland Park gang members for the purpose of furthering the gang's criminal enterprise.  In his affidavit, Officer Burcher also asked for the magistrate's approval "to search for cellular telephones and digital cameras that may 'store or depict criminal street gang activity'; for 'paraphernalia related to a criminal street gang'; and for photographs showing the residents involved in criminal gang activity."  A magistrate determined that the warrant affidavit reflected sufficient probable cause and issued the warrant.  Upon executing the warrant, a "mobile phone" (cellphone?) was found in defendant's residence.  The phone was found to contain videos of defendant "orchestrating nine beatings to initiate new members into the Highland Park gang."  Defendant was arrested and charged in state court with a number of gang-related offenses.  The trial court denied defendant's motion to suppress the evidence—including the cellphone and its contents—found during the execution of the search warrant at his house.  Defendant pled "no contest" to one count of assault by means of force likely to produce great bodily injury (P.C. § 245(a)(4)) and two counts of solicitation or recruitment of another person to participate in a criminal gang (P.C. § 186.26(a)). He also admitted gang and recruitment-of-a-minor allegations. (P.C. §§ 186.22(b)(1)(A), and 186.26(d).) (Presumably, defendant went to prison, although the Court doesn't say.)  Defendant appealed.